National Flower Of Nepal
Nepal is a country with diverse flora and fauna. Every country has its National symbols. Among different symbols Flower is one of them. The national flower of Nepal is Rhododendron. The Nepali name of this national flower is Laligurans (लाली गुराँस).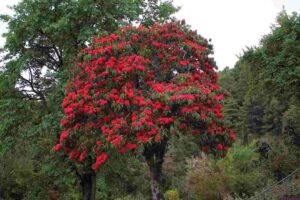 There are 33 different species of Rhododendron found in Nepal. Among all, Red colour is most common. Thats, why they are called lali gurans. Lali means Red and Gurans means Rhododendron. Rhododendron is made from two words, rhodos (Meaning Rose) and dendron (meaning tree). The flower is showy as Rose. There are many forest covered with only this flower, when they bloom, then – whole forest form a beautiful landscape that none can resist from attracting towards it. Only to see the elegant beauty of this flower, thousands of tourists come to visit Nepal Every Year. Let's learn something about the National Flower Of Nepal, Rhododendron. The flower is also included in Nepali currency.
The plant can be evergreen and deciduous, showy flowers, tender stem and branches covered with dry thick bark, showy flowers and they are found at an altitude of 1200-3600 meters above the sea level. It is distributed all over the country. Rhododendron symbolism is caution and danger. The flowers come in different colours: Red, Pink and White. Some are big while some are small. The height of the plant can reach up to 15 meters.
---