Rajnigandha Flower
Rajnigandha also known as Tuberose in English is a bulbous perennial flower that belongs to the family agavaceae. It is also known as Nishigandha. The flower is half-hardy which produces highly fragrant, white, waxy flowers on a long spike.The leaves are long, spreading and grass-like. It is cultivated to use as both cut flowers (Mainly) and loose flowers. The flower is native to Mexico. It spread to different parts of the world during the 16th century. The scientific name of this flower is Polianthes tuberosa. This flower is more active and aromatic at night like that of Night blooming flowers.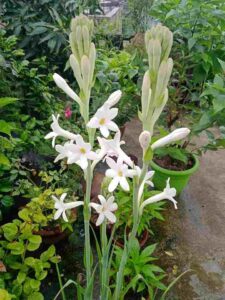 If you want to add a flower in your garden, then what can be the best choice than Rajnigandha. It is the most beautiful flower that will add an amazing scene to your garden. When you come tired from your office and sit in your garden, then the pleasant fragrance from this flower will make you calm. You will forget all your deadlines, worries and you will start admiring the beauty of this flower. You should definitely plant it in your garden. However, There are many things to keep in mind for getting awesome blooms and spikes of this flower. Don't Worry, We will guide everything for you in simple ways. Just read the article till the end.
Rajnigandha Cultivars
When it comes to planting any flower, we always wanted Varieties. We like to choose best from many. Well, Rajhnigandha flower offers you three different varieties:-
• Single Flowered Rajnigandha
This variety has a single row of petals and is mainly used as loose flowers to make garlands. Eg: Mexican Single, Calcutta Single.
• Semi-double Flowered Rajnigandha
This variety has (2-3) rows of petals. Eg: Mexico Hybrid, Latent.
• Double Flowered Rajnigandha
This variety has more than 3 rows of petals. They are used as cut flowers as the flower opens slowly and we can keep for a longer duration. Eg: Calcutta Double, Rajat Rekha, Swarna Rekha, Pearl.
Growing Methods/Propagation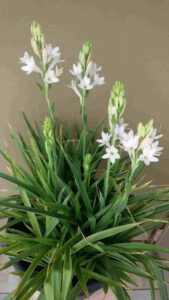 The planting time of this flower is Spring. We can grow/propagate Rajnigandha flowers by both sexual and vegetative methods. Sexually by using seeds and Vegetative by using bulbs. The growing methods are explained below:-
• From Seeds
Seeds are only found in single flowered cultivar. We should sow seeds by making seed beds. After sowing seeds, The germination starts within (10-15) days. The optimum temperature for germination of Rajnigandha seeds is 26.6°C.
• From Bulbs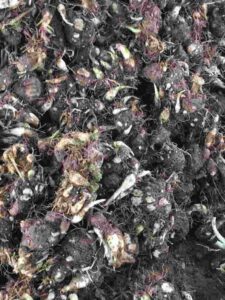 As Rajnigandha is a bulbous plant, the main growing source are Bulbs. Bulbs are modified stems that are usually round and remain underground. The most common method of growing this flower is by using bulbs.
After flowering is harvested, Bulbs are also taken out of the ground. Planting of fresh bulbs will not perform well. Therefore, They are stored at a low temperature of about 10°C for about one month in semi-shade condition. This ensures better germination and early flowering. Care should be taken while growing Tuberose from bulbs. Spindle shaped bulbs free from diseases with a diameter of about 1.5 cm are considered the best planting material. Flat and Conical bulbs should be avoided. Bulbs are planted at the depth of (4-7) cm. Bigger the bulb, the greater is the sowing depth. Similarly, Sowing depth is more in sandy soil in comparison to Loam and Clay soil.The bulbs should be (4-6) inches apart.
If you are growing it on Pots, Then, You should make a potting mix : Garden Soil:Compost: Perlite:Sand in ratio of 2:2:1:1. For fertilizer, Add Soil+Coco Peat+Vermicompost (2:1:2).
• From Division
Division of bulbs means cutting of bulbs into (2-3) individual pieces. In Rajnigandha, Large sized (>2cm) bulbs are divided into (2-3) vertical sections each containing bud and basal parts. Then, The bulbs are treated with fungicide and are planted vertically into the soil.
• Micro Propagation
This is a more advanced and scientific method to produce many plants from one bulb. It is done in the laboratory and requires high knowledge.
Rajnigandha Flowering Season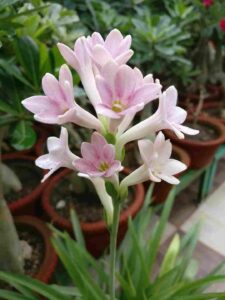 Flowering in Rajnigandha commence (80-100) days after sowing of bulbs during the month of July-Sept i.e. Mid-Late summer season. They produce flowers in long spikes. The flower opens from the bottom of the spike and goes upwards.
Care And Management
• Soil
For the successful growth of any plant, Soil is the most important factor. The flower receives everything (Water, Nutrients, Anchorgae, Minerals) from Soil. For Rajhnigandha flower, Loam and sandy loam soil with proper aeration, drainage and pH range (6.5-7.5) is considered best. The soil should be rich in organic matter. Stagnation of water is a limiting factor as it damages the root system and affects plant growth.
• Light and Temperature
It is a long day flower, meaning, Long day exposure to sunlight increases spike length and reduces the duration of first flower emergence.
The optimum temperature for Rajnigandha flowers is (20-30)°C. Temperatures below 10°C and above 40°C reduce spike length, weight and quality of flowers.
• Irrigation
The selected site should have proper drainage to avoid stagnation of water. The land should be thoroughly irrigated before sowing bulbs which helps in better germination. During vegetative phase, Irrigation should be more and should be reduced during flowering. The field should be irrigated at an interval of (10-15) days.
• Fertilizers
Fertilizers are very important for all flowers. The growth rate, size of flower and spike length depends on nutrients provided to the flower Plant.
For Rajnigandha flower, (20-50) tonnes of FYM and leaf mould is applied during land Preparation. Nitrogen, Phosphorus and Potassium are important for the flower. The recommended amount of N:P:K for Rajnigandha is 200:400:200 Kg per hectare. Excessive use of Nitrogen increases only vegetative growth leading to tall, soft and weak spikes of flowers and it also increases insect-pest attack. So, Fertilizers should be applied in the proper amount.
Harvesting And Packaging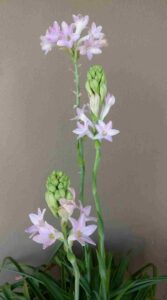 After the formation of Spike, the flower buds start to open from the lower part of the spike and gradually move towards the top. For cut flowers, Rajhnigandha is harvested when the first two bottom flowers are fully open. After that the spike is kept on vase and flowers go on opening for about a week.
For loose flowers, The flowers that open fully are picked. The harvesting of flowers should be done during the morning or evening.
Vase Life
After harvesting the spike, It is placed in a vase solution and the flowers continuously open from lower to upper. At home, To make vase solution, Use filtered water mixed with 5% Sucrose.
Benefits/Uses
• Rajnigandha is mainly used as Cut flowers (Bouquet, Decoration) and Loose Flowers (Garlands).
• The bulbs of this flower are diuretic and emitic.
• The bulbs are mixed with turmeric and butter and are applied to red pimples.
• The powdered form of Rajnigandha flower is used in treatment of Gonorrhoea.
• It is used in Aromatherapy due to its ability to Open heart, Calm nerves and restore Joy, Peace and Harmony.
• They are extensively used in the perfume industry.
Conclusion
Thus, Rajhnigandha is a gifted flower that has great importance and use in our society. Planting this beautiful flower in our garden will surely add happiness.