Climbing Plants
For a gardener like me, Selection of perfect plant for a home garden is a crucial task. The plant we grow in our garden ultimately defines its look. We grow flowers, foliage, shrub, hedges and climbers plants in our garden. Climbing Plants are most important because they are generally placed at the entrance and obviously entrance should look beautiful. Moreover, They provide privacy and screening.
The trailing plants which do not have erect stem and requires some support to grow up are called climbing plants. They are also called vines. Though, they don't have erect stem, they look immensely beautiful when we grow them in our garden. There are different types of such plants. Some produce flowers while other are grown just for their foliage beauty. If you are frustrated with unattractive look of any corner of house, if you want to cover you bare wall and maintain some Privacy, then – You just need to grow climbers plants.
Here, In this article – We will be looking at 20 best climbing plants that you can grow in your garden and make it shine.
1. Mandevilla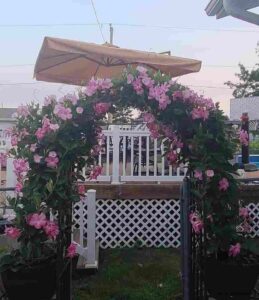 Mendevilla commonly known as rocktrumpet is a tropical and subtropical climbing plants that produces beautiful flowers. The flowers are white, red and pink coloured. It is perennial that loves Sunlight. If the temperature goes below 10°C, you should take it indoors. People grow it as a specimen vine. You can grow it near gates to make your guest welcoming.
2. Bleeding Heart Vine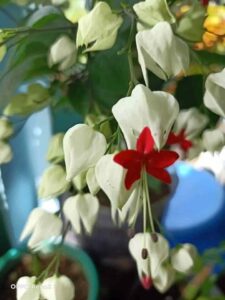 It is most beautiful climbing plant. It belongs to Lamiaceae family. Remember, It isn't bleeding heart plant. Bleeding Heart Plant and Bleeding Heart Vine are different. The name of this plant is given due to its flower. The shape of flowers resembles heart and a red petal lies in between white petals. It is evergreen and can reach up to the height of 4 m.
3. Climbing Fig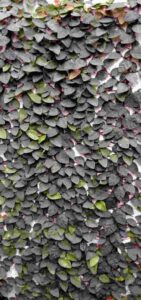 It is an one of the amazing Climbing Plants plant. If you grow this vine near any wall of your building, then this creeper covers the whole wall. The wall becomes completely covered with its leaves. Some people grow it to cover the whole house. This makes the home looks green, it makes us feel that we are near nature. Moreover, It also purifys air and helps to maintain cool environment inside home during summer. This vine cannot be grown in cold climate. We can grow this from cuttings. One of the interesting ability of this plant is, its roots are like the legs of lizard, meaning, It can get attach to vertical wall.
4. Rangoon Creeper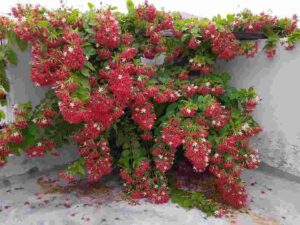 It can grown both in pot and on surface. The flowers comes in bunches which looks very attractive. This is mainly grown at entrance gate. It is also known as Madhumalati in India. It is very easy to grow vine and can reach up to 8 m height. The stem is (1-2) inch thick. Main uniqueness of this climbers plant is the colour of its flowers which keeps on changing. The flowers opens as white in first day which changes to pink on second day which finally changes into red on third day.
5. Bignonia/Flame Vine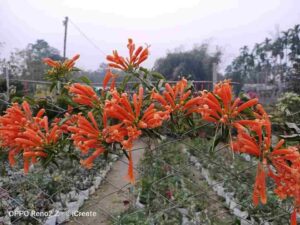 If you want to decorate your wall with beautiful orange colour flowers, then – it is perfect choice. This Climber plants produce flowers continuously for about 4 months and it grows well in direct sunlight.
6. Alamanda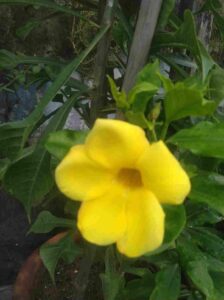 Thia climbing plant looks beautiful that produces two different colours flowers, Yellow and Pink. It is also an evergreen permanent plant which performs best in Sunlight. You can use FYM and Vermicomopost as fertilizer for this plant.
7.Philodendron/Heart Leaf Plant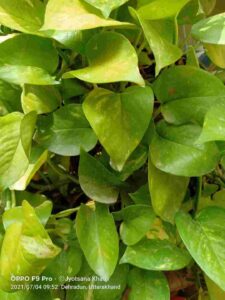 Philodendron plant prefers indoor environment. It looks so beautiful because its leaves mimicks the shape of heart. It is evergreen and the leaves show double shades i.e, Yellow and Green. Growing this plant inside guest room will make your room naturalistic. Too much care isn't required. We can give vermicomopost as a fertilizer.
8. Railway Creeper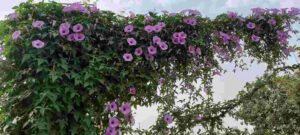 It is another beautiful climbing plants that is perfect to grow in gates. It can be grown in small space like pots. It produce purple colour flowers which makes it appealing to eyes. It loves full Sunlight, Normal Watering and FYM, DAP as fertilizer.
9. Ticoma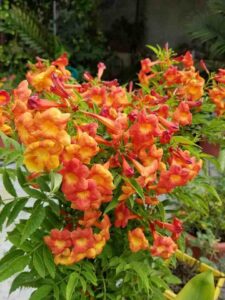 It is a hardy evergreen climbing plant that produces red, yellow and orange colour flowers. If you regularly do pruning, then – It can be maintain small. It has dense foliage which covers the wall and provides Privacy.
10. Monstera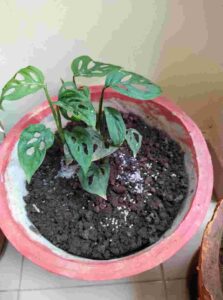 It is plant that can be propagate easily and grow faster. The leaves of Monstera has holes which makes net like pattern. It loves to grow indoors which receives decent indirect sunlight.
11. Rose Vine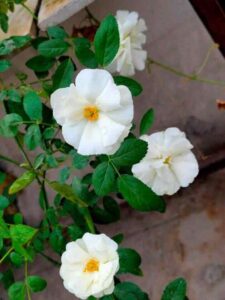 We all love Rose. It is Queen of flowers. But, Do you know there are climbing rose plant. Yes, it is available. The stems grows to good height and sometimes it needs support. Rose Vine produce flowers in bunch. We can get both pink and red colour Rose Vine flower. Tha care and management practices are similar to normal rose plant.
12. Sweet Pea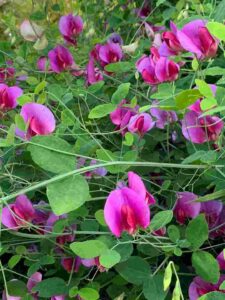 Sweet peas are beautiful flowering vine that produces different colours of blooms ranging from white, pink, salmon to blue.
13. Virginia Creeper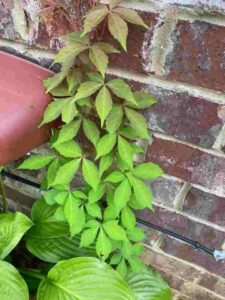 It is beautiful foliage climbing plant that has double shades in its leaves i.e. Red and Green which makes it attractive to look. It grows fast. If you plant virginia creeper near a wall, then – It will cover the whole wall and makes it looks aesthetically pleasing.
14. Elephant Creeper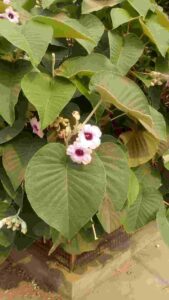 It is evergreen creeper that produce purple colour flower after rainy season. They have broad leaves. This plant can grow up to 10 meters.
15. Moon flower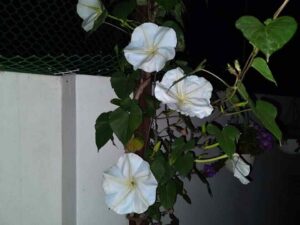 Moon flower is another beautiful climbing plant that has heart shaped leaves and large white blooms. It behaves as perennial in tropical and annual in temperate climate. The main feature of moon flower is, Flowers that blooms at night. The vine of Moonflower is slender that can climb a string, fence or nearby shrubs.
16. Honey Suckle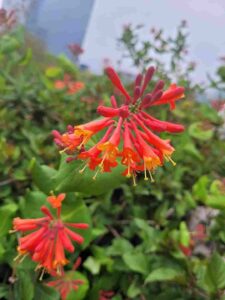 Honeysuckle known as Queen of flowering vine is a beautiful evergreen climbing plant that produces orange colour flowers. The scent of this plant is so pleasant that lots of honey bees are seen sucking juices from its flower. It looks beautiful to grow in walls and fences.
17. Bougainvilla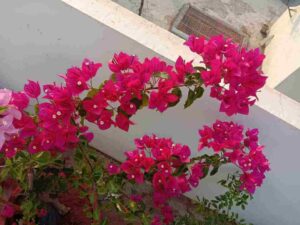 It is a perennial flowering climbing plant that produces flower continuously for whole year. The flowers are like papery in texture. The stems contains thrones. With good support it climbs up and is considered best to keep at entrance as it looks amazingly beautiful at that position. Hundreds of Varieties of Bougainvilla are available. This plant can reach up to height of (8-10) meters. Different coloured flower can be produced in same flower by the means of turf grafting.
18. Cypress Vine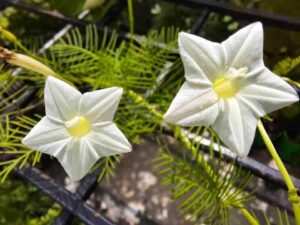 It's very easy to grow vine which can be grown by seeds and cuttings. It is also known as twinning vine meaning it goes up by twining into support. The leaves of this plant are beautiful. It produces three different coloured flower i.e. White, Red and Pink.
19. Clitoris/Aparajita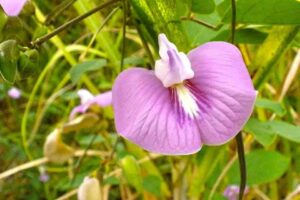 This easy to grow plant is also known as Butterfly Pea and Asian Pigeonwings. The purple hued flower of this climber plant looks very beautiful though white colour variety are also found. The flowers can be found single and doubled. It is perennial and keeps producing flowers for many years.
20. Cotton Creeper
It is also an evergreen vine that is grow for its amazing foliage beauty. As the name indicate, its leaves makes thick layer like cotton cloth. It hangs from above and provides Privacy.
21. Slender Gold Shower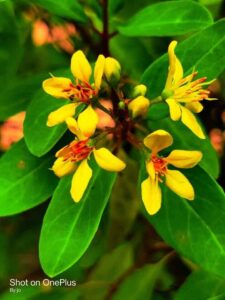 The golden colour flowers comes in bunch. Each bunch contains about (20-25) flowers. It belongs to Malpighiaceae family. It can be grown in pot or in garden. It is ideal to grow on balcony.
22. Passion Flower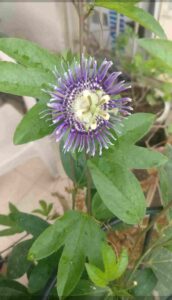 Passion flower is also known as Krishna Kamal in hindi. It is considered as one of the most beautiful flower in the world. It is also known as Maypop. This plant is easy to grow. The flowers blooms in summer. The flowers are red, white and begonia coloured.
23. Garlic Vine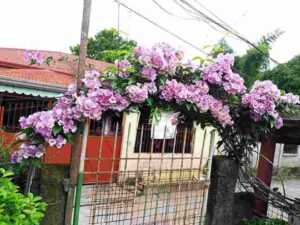 It is beautiful flowering climbing plant. The flowers comes in bunch during moonson season. Flowers blooms in purple colour and changes into white. As name indicates, the smell of this flower is similar to that if garlic. It loves full Sunlight. This vine has medicinal importance. It can be grown from semi-hardwood cuttings.
24. Crimson Ipomea
This flowering vine can be grown in both full Sunlight and In partial sunlight. This plant belongs to morning glory group meaning the flowers blooms in morning and wilts in evening. Pest attack is commonly especially during winter season. Pest like Mealy Bug and White Powdery Mildew are seen. To know the prevention measure of these pest, Read our blog article ➡️ Mealy bugs problem:-Easiest remedy at home
25. Sweet Potato Vine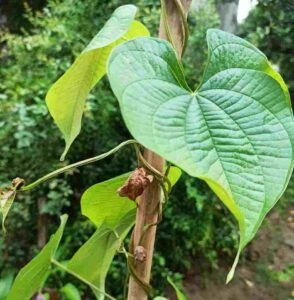 This climber plant is grown for its foliage beauty. It loves Sunlight. If you give support with rope then, it grows fast.
Final Verdict
Thus, These were the 25 Permanent Climbing Plants that you can grow.
Also Read:-
Ajwain Plant: Growing Methods, Care And Benefits
What Is Sustainable Agriculture? Methods, Advantages And Disadvantages